Eddie Howe's blunt Newcastle United response to criticism from Arsenal and Liverpool fans
Eddie Howe's responded to criticism of Newcastle United following a goalless draw against Arsenal.
United's head coach said: "We're not here to be popular, and to get other teams to like us.
"We're here to compete and, to compete, we have to give everything to try and get a positive result. I've got no issue saying that. That's our job – and that's what we're going to try and continue to do."
Howe wants his team to be "streetwise", while also keeping the ball in play as much as possible.
"I'm all for the people that going to watch football matches getting value for money and getting to see the ball in play," said Howe. "I'm a big advocate of that, and I would back that and support that, because you don't want to see the ball out of play continually. Certainly, that wasn't our intention against Arsenal.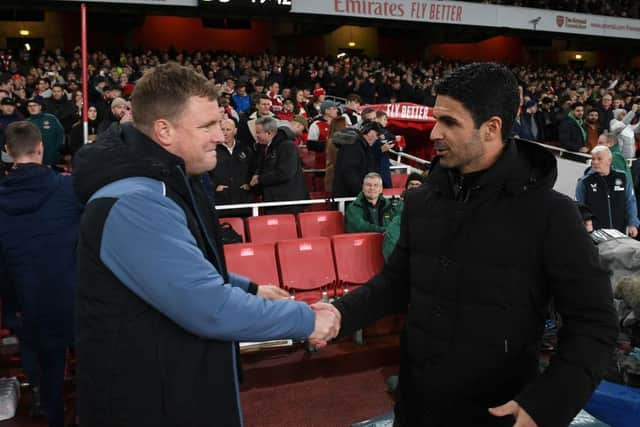 "Look, there are certain times in the game where you have to manage situations, depending on how the game is going and where the momentum is in the game.
"You have to be streetwise and smart, and find a way to get a positive result for your team, and, certainly, I think that's been a really good aspect of our play this year.
"But, on the other side of that, I think we've been very proactive and tired to keep the ball in play in the vast majority of our games."
Howe clashed with Arsenal manager Mikel Arteta late in the game after the home side had a penalty appeal waved away.
The incident was unusual as Howe rarely gets involved in touchline exchanges with his managerial counterparts.
Asked if it was important to stick up for his team, Howe said: "Absolutely. I have to be very strong at certain moments for my team, for the club. I've got no problem doing that as long as I don't lose my discipline and control.
"But, certainly, I have to stand up for what I believe in in certain moments.
"I have to give the referee a big compliment against Arsenal. I thought he was very strong when he needed to be at the end of the game. Under immense pressure, I thought he made the right decisions in those moments, so I've got no issue doing that."
"We didn't beat Leeds because of ourselves, not because of Leeds," said Howe. "Leeds did what they needed to do.
"I think the challenge is always on you as Newcastle manager to try to find a way to beat any opponent. Having that control ourselves is vitally important, and recognising when we don't deliver that, how we can improve."