Eddie Howe's response to Newcastle United VAR controversy – and Alexander Isak's brilliance
Eddie Howe's reacted to the VAR controversy after Newcastle United came from behind to beat Nottingham Forest 2-1.
"I'm not sure what happened there," said United's head coach. "I've got no idea, so I need to sit down, and sort of see what happened – and the thought process.
"I was surprised to see the referee go over to the VAR screen, and sort of make that decision, but it is what it is. I think the big thing is from that the players responded really well, especially Elliot. It would have been easy for him to really curse that moment."
Isak cancelled out Emmanuel Dennis' opener on the stroke of half time, and also netted from the penalty spot in the 93rd minute.
On Isak, Howe said: "Confidence is key for any attacking player, and the penalty was ice cool. It was a huge moment for us in our season. It's not easy to do that, especially with the delay. But he put it away really well, first goal was well. It was a slightly unorthadox finish."
Isak said: "We know it's a hard ground to come and take three points, and we got off to a bad start, but the team showed good character.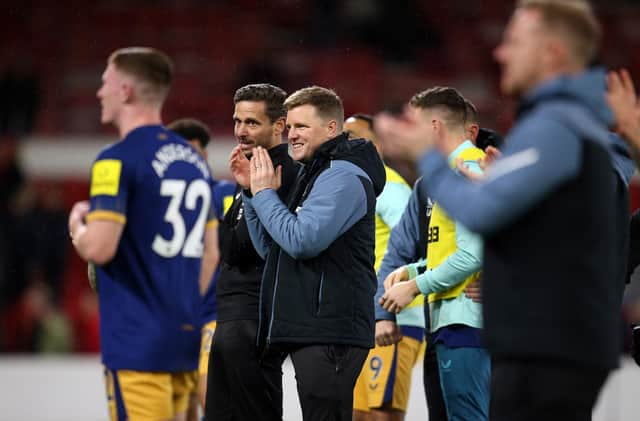 "I think we showed great character, and kept pushing. The disallowed goal didn't change our momentum. We kept controlling the game – and had chances."