Eddie Howe's view on Newcastle United transfer speculation amid Joao Pedro talks
Eddie Howe's outwardly calm with just over a week of the transfer window left to go.
And Newcastle United's head coach insists he's also calm on the inside, though that could change as next Thursday night's deadline approaches.
The club is looking to sign two players – a striker and a winger or a midfielder – before the window closes, and fans are getting increasingly anxious.
Howe knows that he needs to keep his head in the coming days – even if others are losing theirs.
"I'm calm on the outside, and, at the moment, I'm calm on the inside because the team is performing well," said Howe, speaking ahead of tonight's second-round Carabao Cup tie against Tranmere Rovers at Prenton Park.
"I think we have got a very good squad, but I'd love to add to it and bring in players in who can make a real difference to the team. We're working very hard to achieve that."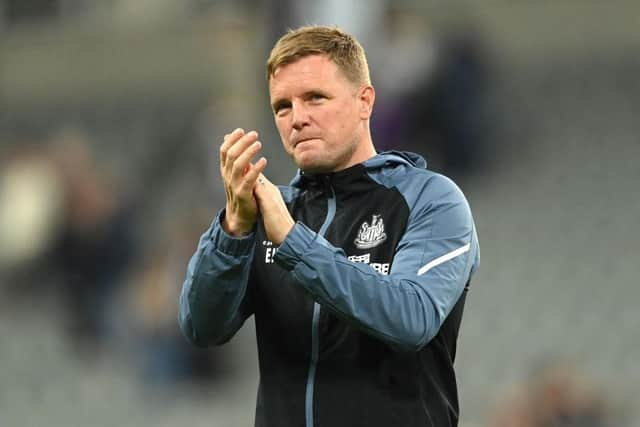 There were reports on Monday that Newcastle had agreed a £25million deal with Watford for striker Joao Pedro.
Those reports proved premature, though it's hoped that that an agreement can be reached for the 20-year-old this week ahead of Sunday's game against Wolverhampton Wanderers at Molineux.
Asked if inaccurate speculation was an issue for him, Howe said: "It doesn't cause me issues, it causes other people issues.
"It comes with the territory. At a big club, there are going to be lots of rumours and stories. I've learnt, in my position, to ignore what you (the media) write – and that's the best position to be. As long as you know what's going on internally, that's the main thing."
Pedro – who has sat out Watford's last two games – could cost closer to £30million.
Asked about the reports of an agreement, Howe said: "I think that's not entirely accurate, but I'm not dealing with these things minute to minute, day to day. I'm sort of in the background hearing what's happening, but I don't think that's correct."