IFAB reject trial of rule change backed by Newcastle United legend Alan Shearer
Temporary concussion substitutes will not be used in the Premier League next season.
Published 18th Jan 2023, 18:00 BST

- 2 min read
Despite requests from across the world of football, the International Football Association Board (IFAB) decided not to implement a trial of temporary concussion substitutes. The trial would have seen the MLS, Premier League and Ligue 1 test out temporary concussion substitutes, however, FA chief Mark Bullingham revealed that an agreement hadn't been reached at the meeting.
Bullingham said: "There were very strong and very different views in the room, and we didn't reach a consensus. We agreed that it would remain under active review."
Bullingham also admitted that a trial has been 'pushed further away' following the meeting: "It's been pushed further away." He said. "I tabled it a year ago, I tabled it again today.
"There are different points of view and they all have merit. I'm probably not the best person to give you both sides of the argument, but there won't be Ifab support for a trial right now."
Premier League rules currently state that teams are given an extra substitution should one player be withdrawn from the field of play with a suspected concussion, however, these substitutions are permanent and mean a player cannot return to the field, even if they have not suffered a concussion. These current regulations have come in for criticism from Newcastle United record goalscorer Alan Shearer who wants to see temporary concussion substitutes introduced into football to reduce the risk of serious brain injuries.
In October, Aston Villa goalkeeper Emi Martinez was allowed to play on against Newcastle despite suffering a nasty looking head injury, an injury which meant he received lengthy medical attention. However, minutes after the physios left the field of play, the Argentine went down again, still feeling the effects of his collision with Tyrone Mings, and was eventually replaced by Robin Olsen - something Shearer took exception to on Match of the Day later that evening.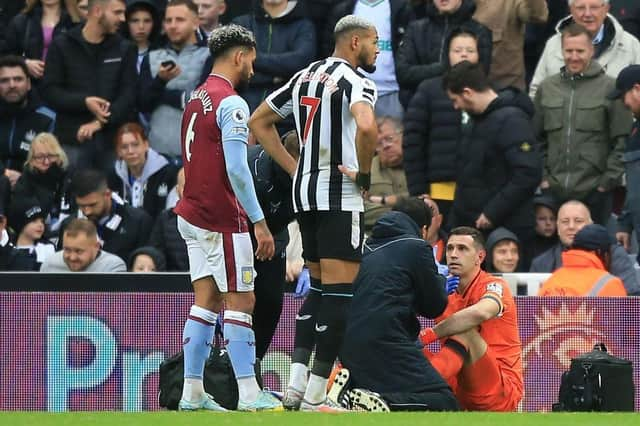 Shearer said: "I'm not happy with it at all. There's been so much talk and discussion about this. IFAB needs to change this rule and change it immediately because this is not acceptable.
"We talk about concussion, it's a really tough blow for Emi Martinez. It's accidental by Mings and Martinez is down for four or five minutes getting treatment. What should happen is there should be temporary substitutions, he should be allowed to go off and be assessed for 10 minutes.
"He goes down again 10 minutes later. If he goes off and is assessed, there's no way he's allowed back onto the field of play like he is in this instance. It shouldn't happen, they are failing players by not allowing temporary substitutions. He shouldn't have been allowed to carry on."
Temporary concussion substitutes would allow players to be assessed by an independent doctor who would then decide whether or not they will be allowed to return to the field of play following a period on the sidelines. This would also mean teams are not disadvantaged by having to play with one less player whilst the injured party is being assessed.