'It's taken a toll': Steve Bruce promises 'a few changes' to Newcastle United team
Steve Bruce is ready to make changes to his Newcastle United starting XI against Manchester City – after the Premier League restart finally caught up with his squad.
Wednesday, 8th July 2020, 10:00 am - 1 min read
Updated
Wednesday, 8th July 2020, 10:05 am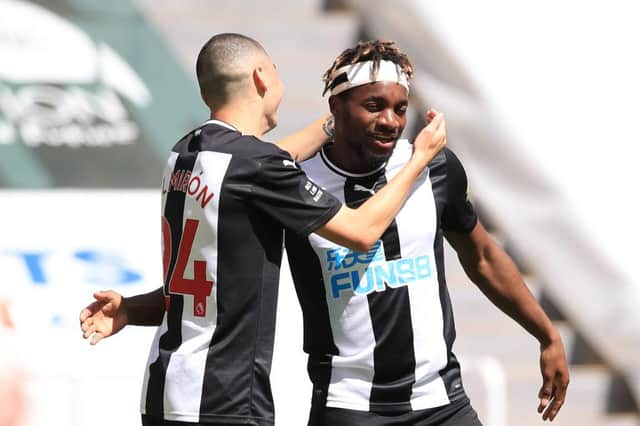 Miguel Almiron, left, celebrates with Allan Saint-Maximin.
Bruce's squad played five games in a 15-day period after the Premier League's resumption following a three-month suspension due to the coronavirus pandemic.
Jamaal Lascelles (ankle) and Andy Carroll (groin) are also doubtful for this evening's game at the Etihad Stadium.
"We'll see how they are," said Bruce. "I thought after Bournemouth, Saint-Max couldn't go again. However, he bounced into training was bright as a button. We'll see how we are, see what we've got. But, certainly, there'll be a few changes.
"I think that's inevitable with the schedule we've had. We'll see what we've got, and make sure we put together a team to try to compete with City."
"Unfortunately, we have picked up one or two (injuries)," said Bruce. "It's fair to say Almiron and Saint-Maximin, in particular, are struggling, Andy Carroll picked up a groin strain, Jamaal has got a sore ankle that he's had problems with in the past, so, in that respect, we've got a few.
"But I suspect most of the Premier League will be thinking exactly the same. When we're approaching the fifth and sixth game, then obviously it's going to take its toll."