Mike Ashley's final Newcastle United signing reacts following January transfer snub
Former Newcastle United forward Santiago Munoz made his first competitive senior appearance in almost two years for Santos Laguna last month.
Munoz spent an injury-hit season-and-a-half at Newcastle after joining from the Liga MX side on loan with an option to make the deal permanent in January 2023. But the 20-year-old failed to make a competitive senior appearance during his time on Tyneside as The Magpies decided not to extend his stay further.
Despite signing in August 2021, Munoz had to wait almost six months to make his first appearance for Newcastle's Under-21s side due to a hamstring injury.
While his time at Newcastle was frustrating in many ways, the player is focusing on the positives he gained from the experience.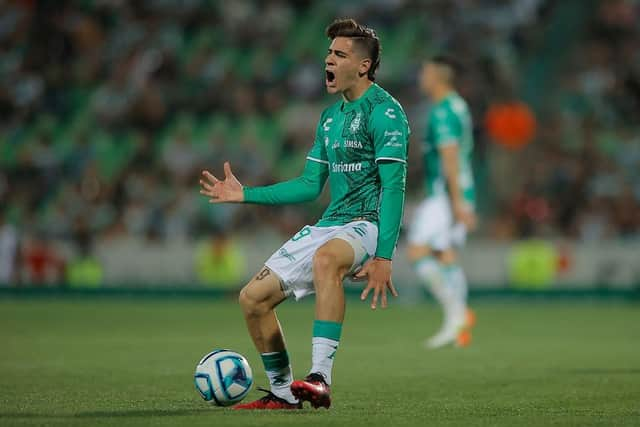 "I have returned as a much more mature player," he said via AS. "A very different player from the one who left here. I take my time in Newcastle as a master's degree and I thank the club for helping me and giving an opportunity at such a young age.
"I learned a lot during the time that I was there as a player. I grew as a person and the philosophy of the club helped me to give me a start outside of my country at a young age.
"It helped me as a person and I've come back with all the desire, motivation and willingness to give everything and repay the club for what they have given me."
The young Mexican was the final signing of the Mike Ashley era at Newcastle in a move that was given plenty of attention due to Munoz's name being similar to fictional Newcastle player Santiago Munez from the movie Goal!
Unlike the movie, Munoz's stay in England wouldn't have a Hollywood ending as he returned to Mexico having struggled to make an impact. Since his arrival in August 2021, Munoz made just 13 appearances for Newcastle's Under-21s side.
But he did make one first team appearance in a 2-1 pre-season friendly win over Athletic Bilbao last summer as he came off the bench to replace Callum Wilson in the closing stages at St James' Park.
Munoz returned to Mexico following the end of his loan at Newcastle at the start of January. After a spell on the sidelines, he has now been introduced from the bench in each of Santos Laguna's last three Liga MX matches.
"I have returned with a lot of desire to do well at this club and be able to contribute the best I have to give, be it with goals, encouragement or whatever is needed to help the team," he added.
"I want to make history at this club - a club that has given me everything since I was a kid. I feel that I owe them something and that is what I want to show. I want the same thing with the national team; I am clear about my objectives in the national team and look forward to this summer's U20 World Cup."