Newcastle United co-owner Amanda Staveley explains why PIF didn't buy Chelsea, Liverpool or Manchester United
Newcastle United co-owner Amanda Staveley has provided an update on the club's strategic and commercial plans at a football business summit in London.
Staveley has discussed growing Newcastle's commercial revenue and confirmed a new Amazon documentary about the club is in the process of being made. Camera crews have been in attendance at St James' Park and around the training ground in recent weeks.
While Newcastle have progressed on the commercial front since the Saudi Arabian Public Investment Fund led takeover in October 2021, the club has found itself tied down by previous deals and contracts agreed under the previous ownership.
Staveley was speaking at the Financial Times' Business of Football Summit at Mayfair in London on Thursday.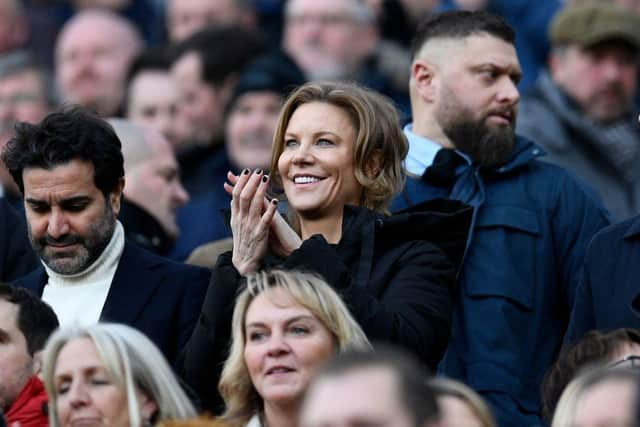 "We are doing everything we can to grow our commercial revenue with regards to Financial Fair Play," she said. "We inherited very difficult contracts with the likes of FUN88 [main shirt sponsor] which were very much one way.
"We were limited as to how we could drive commercial revenues."
Newcastle have negotiated an early exit from the FUN88 deal which will allow the club to bring in a new main sponsor for the 2023-24 season. The club may also opt to end its deal with kit manufacturer Castore, though that deal will be more difficult to scrap given Castore's intrinsic links to the club's retail process.
After missing out on the Carabao Cup final on Sunday, Staveley promised that Newcastle would win every top major honour available to the club in the coming years. But in order to do that, significant investment will be required.
And that is what substantial commercial revenue streams will be vital to the club's progress. As it stands, the club are significantly limited by Financial Fair Play regulations.
"We have had to be prudent," Staveley added. "Because otherwise we would have hit our FFP buffers, far quicker than other clubs.
"We have an FFP budget and keep to that. We can't afford to sign a dud player."
Discussing the upcoming Amazon documentary, Staveley stated: "We are looking at everything in terms of how we can grow Newcastle United, our brand, our club. We have looked at multi-club but you have to make sure that you have the right fit.
"We also have to make sure we choose our territory correctly, get the right chemistry. It's critical you set out what your goals are."
Staveley was one of many key footballing figures at the event alongside Premier League CEO Richard Masters, La Liga President Javier Tebas and Everton owner Farhad Moshiri.
She was quizzed on why the consortium opted to buy a struggling Newcastle at the time for £305million opposed to a more established Premier League side. But her response was quite simple: "We didn't go for the wonderful Tottenham, Chelsea or Liverpool…why spend billions?"
Since Newcastle's takeover, Chelsea have been sold to Todd Boehly's consortium for £4.25billion while the Glazer Family are reportedly holding out for £6billion for Manchester United despite receiving two substantial bids. PIF were able to acquire The Magpies for around 5% of the current asking price for Man United.
And Staveley was quick to reassure supporters when asked if PIF would be willing to sell Newcastle in order to purchase a club such as Man United.
"No, I don't think so," she replied.