Newcastle United fans could have something to celebrate before the transfer window reopens
There were some sore heads the morning after the night before at Wembley.
Eddie Howe's players will have had clearer heads, but processing the loss won't have been easy given their disappointment at the 2-0 loss.
The challenge for Howe is to channel that frustration and disappointment back on to the pitch for the fifth-placed club's remaining Premier League games.
Howe, speaking after the game at Wembley, was confident that it "wouldn't be an issue" for his players, who are preparing for Saturday's game against champions Manchester City at the Etihad Stadium.
"Personally, as I sit here now, I don't think that will be an issue," said United's head coach. "These players have responded every time they've been questioned this season with a really positive response.
"They'll be very disappointed. They've a very difficult next game to come – probably in the football calendar the most difficult – but that'll be a great challenge for us to go into. But I'm proud of the players, that's my emotion."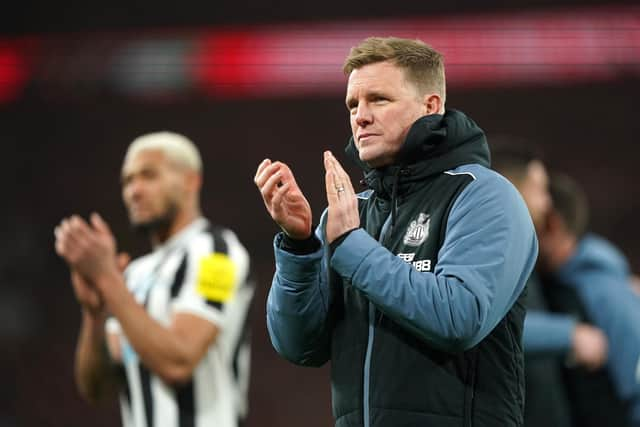 Pride in defeat
Supporters experienced many emotions, including immense pride, over the weekend.
The impromptu flag waving in added time underlined the bond between fans and this group of players.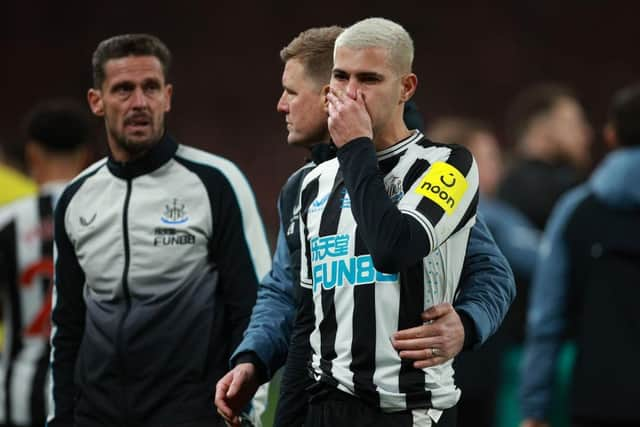 "I didn't necessarily see fatigue in our performance – I thought the lads kept going to the end," said Howe. "Mental fatigue's a difficult one to judge. It's probably more a feeling than something you can measure."
Howe's squad won't get any stronger until the summer's transfer window, and a big effort is needed from that same core group of players over the coming weeks or months if the team is going to qualify for European football for the first time in more than a decade.
Goals are an issue. The team has scored just three times in its last seven top-flight fixtures, and Alexander Isak could return to the starting XI against City after impressing off the bench at Wembley.
Case for defence
Newcastle, so solid this season, have also made some defensive mistakes, notably from set-pieces, in recent weeks, though the club, by some distance has the best record in the league having conceded just 15 times this season.
An opportunity has gone in the cup, but another beckons in the league.
United have games in hand over fourth-placed Tottenham Hotspur and sixth-placed Fulham – and some perspective is needed following a run of defeats and draws.
Newcastle fans, recovering from the weekend's excesses, could well have something to celebrate come the end of the season.