Newcastle United's Bruno Guimaraes to miss West Ham United, Liverpool and Bournemouth games in 'huge blow'
Bruno Guimaraes will be banned for Newcastle United's next three games following his Carabao Cup dismissal.
Eddie Howe labelled the loss of Guimaraes to suspension as a "huge blow" to the third-placed club, which yesterday sold midfielder Jonjo Shelvey to Nottingham Forest.
"It's a huge blow, and it will take time to sink in for me," said United's head coach. "He's a big player but it offers an opportunity for another player."
On the challenge, Howe said: "When the tackle happened, I thought it was a normal tackle, slightly mistimed. Then you see the slow-motion replay back, and it doesn't look great, but, I think, it doesn't take into account the speed of which that moment is happening.
"So there's no intent, absolutely zero intent. I thought the red card was harsh, but it's happened – and we have to deal with it."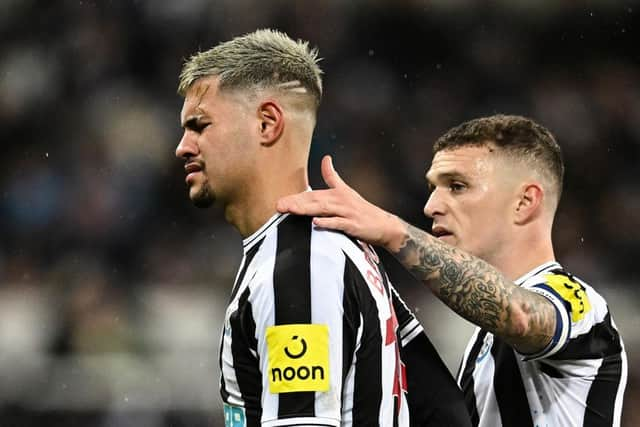 Guimaraes, signed a year ago from Olympique Lyonnais, reacted to the club's first Wembley visit since 1999 – and the first red card of his career – after the game.
The 25-year-old tweeted: "Huge happiness to be in my first final with this shirt.
"Every day I'm sure I made the best decision coming here. First year and first final. Sad for the red card, the first in my career, but these are situations that occur during games. Thanks for the support. Wembley, here we go."
Asked if the cup final would be a distraction for his players, Howe said: "I don't see that being a massive concern for me. The concern is Bruno's red card and Alex's potential concussion. They're huge blows for us."