Six incredible Newcastle United and Arsenal records that could be broken – one guaranteed
Newcastle United have not conceded a goal in over seven-and-a-half hours of competitive football ahead of Tuesday night's trip to Premier League leaders Arsenal (7:45pm kick-off).
Newcastle's clean sheet & unbeaten run
Newcastle kept consecutive clean sheets against Crystal Palace, Chelsea, Bournemouth, Leicester City and Leeds United in the league and Carabao Cup to end 2022. Eddie Howe's side go into the match against the Gunners on the back of a 14 game unbeaten run which has seen them concede just five goals in all competitions.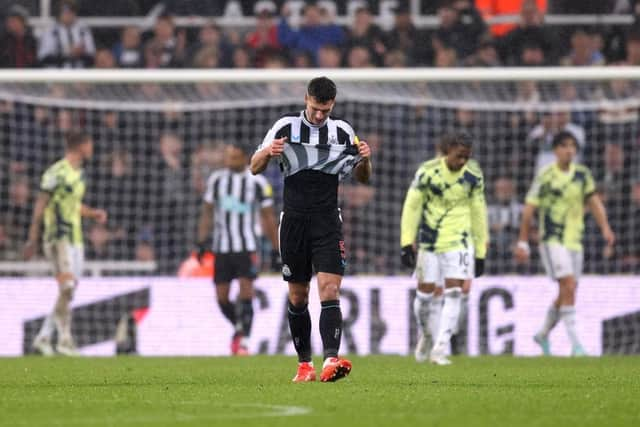 Arsenal's winning & scoring streak
Arsenal have scored in every league game they have played and haven't dropped points at the Emirates Stadium so far this campaign. In fact, Newcastle were the last side to keep a clean sheet against Arsenal in the Premier League when they won 2-0 at St James's Park in May.
Either Arsenal's perfect home record or Newcastle's clean sheet record will have to give on Tuesday.
Newcastle's losing & goalless streak at Arsenal
The Magpies haven't had much luck visiting the Emirates in recent years, losing their last 11 and not scoring in their last seven.
But even after the frustration of a goalless draw against Leeds United, Newcastle can take confidence from their recent form.
Standards rising at Newcastle
Defender Fabian Schar is one of several players yet to taste defeat this season and has helped the side boast the best defensive record in the league.
"These days when we drop two points it is a disappointment," Schar said. "But even in games like [Leeds], the team defended really well.
"We do not give away many chances. We have been pretty solid most of the season. Everyone knows their job and what to do. It means if we keep a clean sheet then we will at least get the point."
With Newcastle currently sitting third in the Premier League table after 17 matches, Schar admitted standards are continuing to rise at the club.
"When you see where we are now then yes we set high standards and do not like to fall below them," he added. "It shows how much we have improved not only are we looking to keep those standards, we want to improve them.
"When we look at the games back we always look at the things we did wrong and correct them."