Talented Whitburn teenager Eleanor scores top grades in all her GCSE subjects
It's a big day for teenagers across the country
Watch more of our videos on Shots! 
and live on Freeview channel 276
Visit Shots! now
Whitburn C of E Academy student Eleanor Wipat scored a full house after attaining grade 9s - the highest possible grade - in all 10 of her GCSE subjects.
After opening her results, the 16-year-old said: "I wasn't as nervous as I expected coming into school this morning, but I really didn't expect to get 9s in all my subjects. 
"I was shocked when I opened the envelope and just had a big smile.
"I'm going to be staying on at Whitburn's Sixth Form to study computing, maths, further maths and chemistry."
Mother, Claire Wipat, added: "I'm absolutely thrilled for Eleanor and very proud. She worked really hard for her results."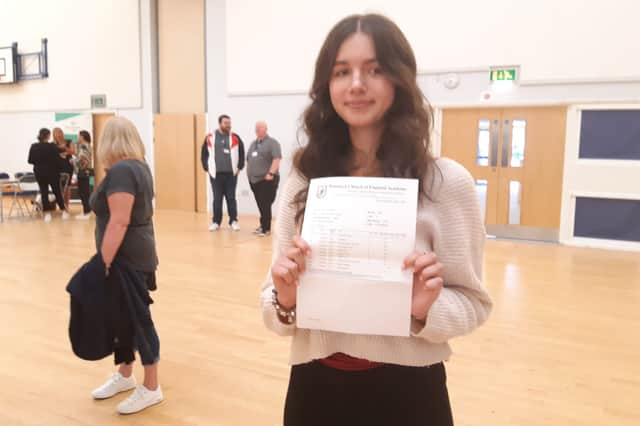 One pupil who was particularly proud of her achievements was Amelia Dunn, who attained one 9 three, 8s one 7 and passed all her remaining subjects after overcoming the adversity of being unwell for a large proportion of her GCSE studies.
Amelia, 16, said: "I missed about seven months of school due to being unwell and at one point I didn't think I would even be able to sit my exams. There was then a discussion about just sitting English, maths and science, but I was determined to do all 10 of my subjects.
"I was so nervous coming into school this morning and I was was shaking and lost feeling in my legs as I was opening my envelope.
"I was beyond happy when I saw my results."
Amelia is going to celebrate by going out for lunch with her parents and sister and is planning on studying English Literature, psychology and PE at Whitburn's Sixth Form.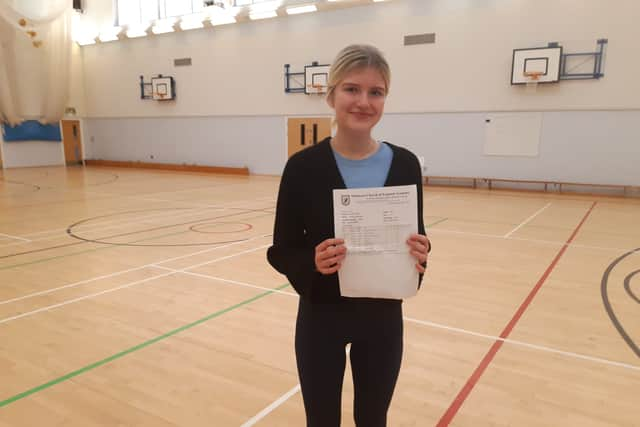 Two of the school's other top performers were Violet Van Malland, who attained six 9s, three 8s and one 7, and John Wright who achieved three 9s, four 8s, a 7 and a 6.
Violet, 16, said: "I was crying with happiness and relief when I opened my envelope. I'm really happy with my results. 
"I was nervous coming into school this morning and didn't sleep very well last night. I thought I was going to fail maths and I was surprised to get a 9 in English.
"I'm going on to Sixth Form to study psychology, business and biology."
John, 16, added: "I had heard on the news about the grade boundaries going up and so I was nervous last night and this morning.
"I put in a lot of hard work and I'm very happy with my results. I'm going to study biology, maths and chemistry in Sixth Form."
Other top attaining students were Chloe Billings who attained seven grade 9s, two grade 8s and a grade 7, Vincent Schroeder who achieved five grade 9s, two grade 8s and 2 grade 7s, and Adam Crosbie who gained one grade 9, eight grade 8s and one grade 7.
This year's cohort is the first group of students in England to sit their GCSEs without any allowances since the onset of Covid, despite having two years of their Key Stage 3 (Year 7 to 9) education disrupted by the pandemic.
Despite this, the school has seen an increase in the percentage of 9-7 grades awarded from 24.3% in 2019 to 27.8%. 
77.4% of students attained 9 to 4 grades in English and maths compared to 76% in 2019.
Whitburn C of E Academy headteacher John Crowe said: "This particular cohort has not received any allowances for the disruption they faced during the pandemic from any of the examination boards, so the results are testament to the resilience and hard work that the students have demonstrated over the past few years.
"The top grade boundaries in some subjects have been set at a higher rate than in the non-disrupted 2019 examination series.
"Students in Wales, Scotland and Northern Ireland have still had allowances made due to the pandemic, whereas in England this has not occurred."