Coronavirus in UK live blog as it happened: Northern Ireland to allow small groups to meet outdoors
Follow the latest updates on the coronavirus outbreak in our live blog below
We will be providing live updates until 6pm this evening.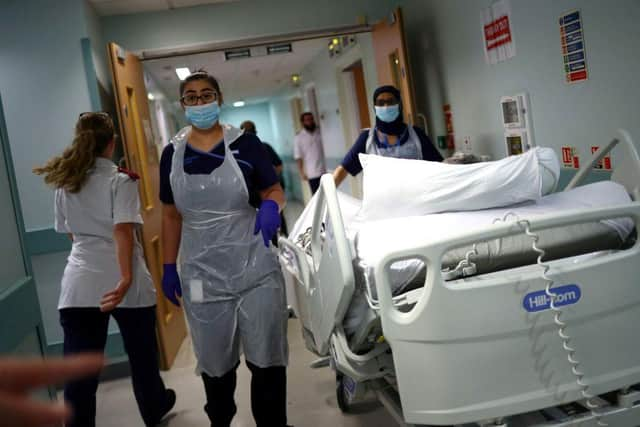 Coronavirus live blog, May 18
Show new updates
Government making 'good progress' in getting thePremier League back
Culture Secretary Oliver Dowden has said the Government is making "good progress" in getting the Premier League back.
Dowden said he was aiming for a mid-June return for the league, following "constructive discussions" with the FA, the EFL and the Premier League, but reitereate that public safety was the "number one test".
He told Sky News he was hoping for "some more free-to-air matches… because that would be helpful in terms of discouraging people from leaving their homes."
School leaders' union wants more clarification on schools reopening
Paul Whiteman, general secretary of school leaders' union NAHT, has said teachers wanted more clarification on whether schools are centres of transmission, "specifically around the transmission from children to adults."
He told BBC Radio 4's Today programme: "It's been asserted by the Government publicly over the weekend - that there isn't the level of risk that we fear.
"However, we haven't yet seen the scientific underpin of that. There's been some commentary and I want to invite the Government today to write to me so that I can talk to the 31,000 school leaders that we represent, particularly in the primary sector, and say this is why the Government has made that assessment."
Rail network 'relying on people to be sensible' to enforce social distancing
Network Rail chief executive Sir Peter Hendy has told BBC Breakfast that face coverings are not mandatory for passengers but "we are all very keen in the rail industry" for people to wear them.
Hendy was asked how social distancing will be enforced on the railway, and said: "Passengers are sensible. This is a national crisis of unprecedented proportions.
"We are relying on people to be sensible. We are doing our best too.
"We want people to stay apart if they humanly can and if they can't, then a face covering is a quite sensible thing to do for the brief moments when you might be getting on or off a train or moving through a station."
On what measures would be taken to try to keep passengers and staff safe if stations became overcrowded, Sir Peter told BBC Breakfast: "We have processes to close stations if they become too full.
"My railway colleagues have rehearsed those processes on the national railway network if that becomes necessary."
He said passengers should consider whether they actually need to travel.
Vaccine early next year 'most optimistic estimation'
Professor Robin Shattock, head of mucosal infection and immunity at Imperial College London, has said he think a vaccine is not likely to be widely available until next year.
He told Today: "I think we have a very high chance of seeing a number of vaccines that work because we know a lot about this target and I think there's good scientific rationale to say it's not such a hard target as others.
"My gut feeling is that we will start to see a number of candidates coming through with good evidence early towards next year - possibly something this year - but they won't be readily available for wide scale use into the beginning of next year as the kind of most optimistic estimation."
Quarantine rules for people travelling to the UK will be enforced by law
The Culture Secretary has suggested quarantine rules for people travelling to the UK will be enforced by law.
Oliver Dowden told Today: "We would look at the relevant enforcement mechanisms just as we have done with other measures.
"So for example, the measures that we took when we introduced the so-called lockdown - those were underpinned by regulations which had consequences in law, and I'm sure we'll do the same thing."
He said there would be "very limited" exemptions to the rules.
Today marks the start of Mental Health Awareness Week
Here are some tips on how to manage your wellbeing under lockdown:
Things you can do under lockdown
It's Mental Health Awareness Week in the UK. With lockdown measures in place, many people are finding themselves with a lot more time on their hands.
Here are some fun ways to pass the time, while keeping your mental health in check:
Loss of taste or smell added to the NHS' official coronavirus symptoms list
A loss or changed sense of taste or smell are to be added to the NHS coronavirus symptoms list, weeks after experts first raised concerns that Covid-19 cases are being missed.
Anyone suffering loss of taste or smell - or a noticeable change - should now self-isolate for seven days to reduce the risk of spreading the infection, England's deputy chief medical officer, Professor Jonathan Van-Tam, told reporters.
In a joint statement the UK's chief medical officers said: "From today, all individuals should self-isolate if they develop a new continuous cough or fever or anosmia.
"Anosmia is the loss or a change in your normal sense of smell. It can also affect your sense of taste as the two are closely linked.
"The individual's household should also self-isolate for 14 days as per the current guidelines and the individual should stay at home for seven days, or longer if they still have symptoms other than cough or loss of sense of smell or taste."
Scottish death toll increases by two
2,105 patients have died in Scotland after testing positive for coronavirus, up by two from 2,103 on Sunday, First Minister Nicola Sturgeon has announced.
Speaking at the latest Scottish Government coronavirus briefing in Edinburgh, the First Minister said there are 1,427 patients in hospital with confirmed or suspected Covid-19, up 119 from 1,308 on Sunday.
She issued a note of caution over the death figures, saying although deaths can be registered at the weekend, registrations tend to be lower.
The First Minister also said there would now be an expansion in testing, saying that anyone over the age of five with any of the symptoms would be able to have a test booked.
While key workers will be prioritised, Ms Sturgeon said the tests can be booked online.
The First Minister said a "route map" will be published on Thursday for the paths out of lockdown in Scotland.
"Within two weeks, my hope is that we will be taking some concrete steps on the journey back to normality," she said.
Travel restrictions still in force
UK nationals are currently banned from all but essential travel and borders still remain closed between many countries.
If you have a holiday booked, here's some advice on how to get your money back in the event of a cancellation.