Weather forecast for the weekend ahead as snow warning continues across the North East
After says of snowfall, the North East has been warned to expect the showers to continue.
Published 12th Feb 2021, 12:45 BST

- 2 min read
But for those fed up with the cold, there is some sunshine ahead, with milder temperatures predicted ahead by the Met Office.
Up to 3cm more could fall in some areas, although we will miss the worst of it, with North East Scotland been told to expect up to 10cm on higher ground.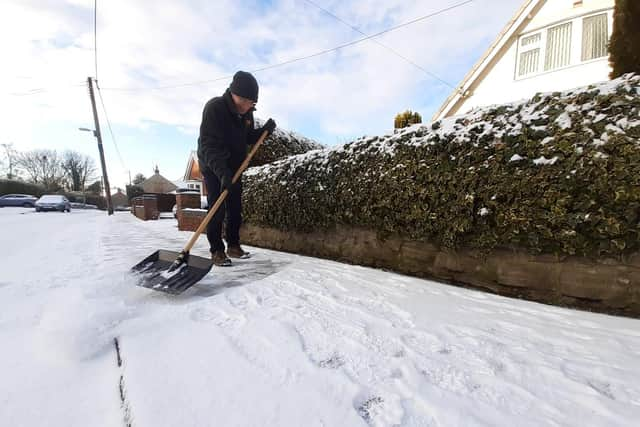 Icy patches could form around partially melted snow, especially in lower levels, with Northumberland most likely to see snow overnight, with a 50% prediction of a flurry.
The temperature is could drop down to around -6C.
What about the start of the weekend?
Some parts will miss out on the snow, staying dry, with the sun expected to shine from around 8am until 11am, following on from sunrise at around 7.30am.
But the temperature will still be very cold at -1C, but will feel as cold as -8C in the south of the region, but as cold as -10C in Northumberland.
We can also expect some strong winds, with the cloud cover to thicken during the day as it begins to get dryer.
We will still need to wrap up and take caution if we're out and about, with a windy and cold Sunday expected.
The region is expected to see some brief snow and sleet showers spreading across the east, but these could quickly turn to rain.
Icy conditions are likely.
Will the weather get warmer with the start of the new week?
The thaw is expected to begin on Monday and Tuesday, with milder temperatures, but we can also expect rain at times.
The milder conditions will continue on Tuesday, with the east of the country expected to be drier than the west, with any snowfall expected to be confined to the Scottish mountains.
From the weekend of February 20, there are signs of more widespread settled conditions which will correspond with temperatures falling back to below average, but with an increased incidence of overnight frost and fog.
The dramatic events of 2020 have had a major impact on many of our local valued advertisers and consequently the advertising that we receive.
We are now more reliant than ever on you helping us to provide you with news by buying a copy of our newspaper.
If you can, please do pick up a copy when you are at the shops.
Thank you for your support.