Best air fryers UK: best ones for sale from Ninja, Tefal, Currys, Amazon- and are they a healthier way to fry?
As an energy efficient, cost effective, healthy way to cook, air fryers are flying off the shelves. These are the best ones around
Published 7th Jan 2021, 18:15 BST
Updated 20th Jan 2023, 10:26 BST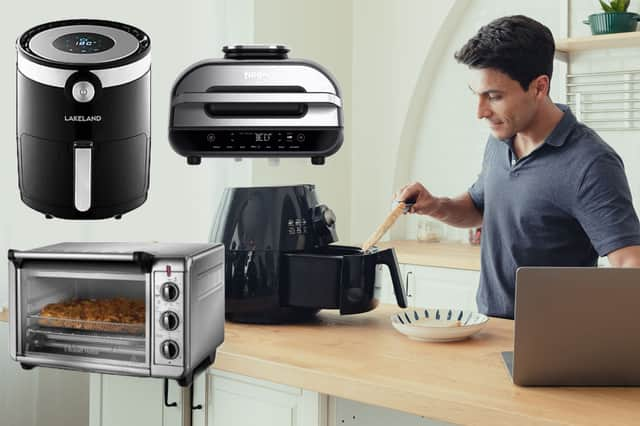 This article contains affiliate links. We may earn a small commission on items purchased through this article, but that does not affect our editorial judgement.
An air fryer is a must-have for every busy kitchen. You can make everything from freezer snacks to healthy haute cuisine in these worktop gadgets – essentially they are like mini ovens, using convection heat and fans to force hot air around trays or baskets of food, baking and crisping faster than conventional ovens.
Who would benefit from an air fryer? 
Using less energy, air fryers are a great choice for solo cooks who feel that one solitary ready meal in a full-size oven is wasteful. They're quick to heat up, easy to use and can reduce oven cooking times by up to half.
Teens and students love them for their snacking possibilities (cheese toasties, pakora, spicy wedges, nuggets, etc) and we love the safety aspect – no deep frying, splashing fat or forgotten oven trays. All the models here will cut off after cook time is up and make it easy to check on dishes' progress using little or no added oil to crisp things up.
Will it cook tasty food – and is it healthier?  
Because the convection fan forces heat around your food much faster and more forcefully than a conventional oven, items cooked in a convection oven crisp up much better than any oven-baked item will. You'll end up with crisper, more evenly cooked food. We found the food cooked in our air fryers suitably tasty. 
We would, however, ensure that  you use a small amount of fat or oil for cooking, just for flavour's sake. For example, oven chips are well served by a quick spray of oil before being cooked. This will avoid the dreaded blandness of no-fat food while still maintaining the desired lower-fat effect.
A standard serving of oven chips cooked in an air fryer will be pleasantly crisp at only 5 grams of fat of serving – while a deep-fried, same-sized portion will have 18 grams. It's a great way of reducing saturated fat in your daily diet.  
Are they simple to use? 
Honestly - it couldn't be easier to use an air fryer. Plug them in, place your food in the tray, set the time and the temperature - and walk away. So simple.  
Clean up is easy, with all of our featured models having removable trays and baskets that are dishwasher friendly.
What are the best available? 
We tested a range of air fryers with single cooks, families and couples and all our testers – even the most cynical amongst them – agreed an air fryer was a great addition to their kitchen.
Trying a range of models out for making snacks, meals and to supplement their oven cooking for the Sunday roast, there were lots of new fans willing to eat their words – and just a few more crispy oven chips.
Best air fryers at a glance