Best camping lanterns UK: fuel-based and electric lamps for backpack and base camping
After a powerful lantern, with various lighting modes to illuminate your camping trip? These are our favourite, from gas powered to solar or electric lanterns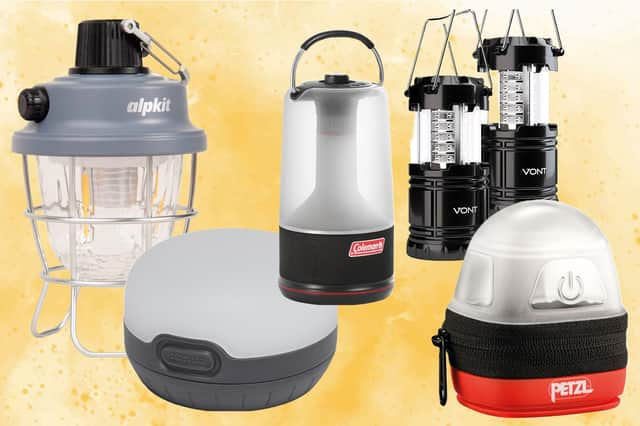 This article contains affiliate links. We may earn a small commission on items purchased through this article, but that does not affect our editorial judgement.
Lighting up your environment is imperative for a safe, comfortable and enjoyable camping experience. Whether you're on your own on the side of a mountain, on holiday with the family at a campsite, or backpacking across Europe, a great camping lantern will transform your evenings. Pick one you can hold, hang up and carry around and you can light up your entire camping space.
There are myriad options on the camping lantern market, and they each offer different advantages. You can evaluate them on light output, power supply, burn time, durability, among other factors. In this article, we'll be looking the ones we've enjoyed using and would recommend purchasing.
We'll be looking at a few options. There are good-looking decorative lamps with real flames, ideal for large family camping set-ups. We're also evaluating handy, lightweight electric devices. These are perfect for hanging on backpacking tents if you're wild camping or heading out into the mountains.
Gas or electric lantern?
The kind of lantern you'll need with indeed depend largely on what kind of camping you'll be doing. You may want to use a handsome traditional fuel lamp, but they require additional items to run. Carrying these may be prohibitive if you're heading out with a lightweight setup.
They also need to be kept away from flammable materials, and a well ventilated space, which is tricky if you have a small tent space. On the plus side, they have a bright, long burn time and can be operated in sub-zero temperatures.
By comparison, electric lanterns are lightweight, safe to use inside a tent, and quiet. As a drawback, they can run out of charge swiftly when temperatures fall below freezing. Not all models are rechargeable if you're heading on multi-day trips.
It's also worth considering that gas lanterns, while not tricky, are slightly more finicky to use. You need to light them and change fuel cannisters.
Electric lanterns work at the literally click of a button. Just make sure you have enough batteries. If it has a rechargeable battery, ensure you have a USB cable and power source to keep them humming over.
Lumens
How bright is too bright? You don't want your lantern to hurt your eyes if you glance at it, but you do want it to adequately light your camping space. Somewhere between 200 to 500 lumens is perfect for a well lit camp site, easy to manoeuvre around.
If you're after something a little more sultry and glow-y, to set a mood inside a tent, 60 to 100 lumens will give you a softly lit camping paradise.
Water Resistance and Durability
It's worth forking out for a lantern that is robustly water resistant and durable. Trust us, as much as you assume it'll always be under cover, it's all too easy for lanterns to be left outside overnight.
Gas lanterns are more vulnerable to water ingress, due to their glass lenses. If you're going down this route, we'd advise the use of a carrying case to transport them about.
Any electric lantern worth it's salt will have a rubberised casing on the outside, to help guard against knocks and drops. Most are water resistant as a matter of course, but if you're clumsy or heading somewhere wet look for one designed to withstand brief immersions in water. This is measured using the 'Ingress Protection' testing standard . Look for around an IPX7, which will protect the lantern for water immersion up to 1 meter deep.
Weight and packability
Of course, this depends of your method of camping. Car camping (that is, travelling to a campsite by car)? The weight and size of your lantern is relatively immaterial.
If you're headed out into nature you'll be wanting something lighter, and that can be easily packed. Backpack camping and the lantern needs to be light, and collapsible or small.
Here are a few of our recommendations for camping this spring and summer