Best fridge freezers UK 2023: energy efficient, integrated. and American style
Getting confused about the best buy for your space? Chill. We've found the fridge freezers you need to know about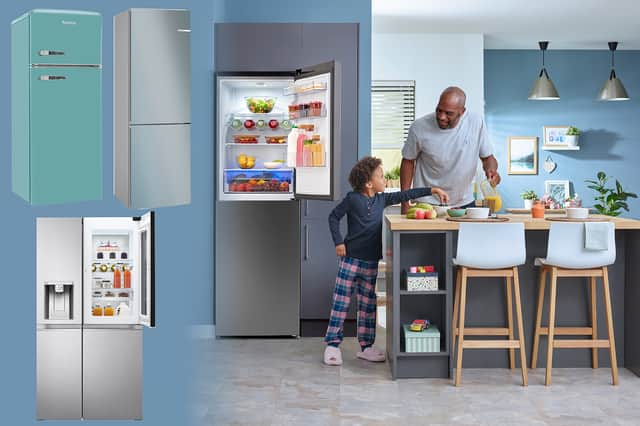 This article contains affiliate links. We may earn a small commission on items purchased through this article, but that does not affect our editorial judgement.
A fridge freezer can be sleek and discrete or make a style statement – you choose how much you want out on display. One thing's for sure, there are so many to choose from it's enough to make you want to choose one at random and hope for the best.
We're here to help you think about the right buy for you, no matter what your budget or needs.
What are the best stores to buy a fridge freezer from?
Online stores are super-efficient at quick, next-day delivery on major appliances, so don't panic if your new fridge freezer is a much-needed replacement for another that's on the blink. We especially like Argos and AO.com, who have neve let us down with their timed deliveries and impress with text message updates and polite delivery people .
It's always good to get a hands-on feel for what you like in terms of storage bins and fridge and freezer capacity, so if you can get to a store like John Lewis, then have a good root around models to see what would suit your kitchen and accommodate your usual weekly shop.
Do I need to consider energy ratings when purchasing a fridge freezer?
The nearer your chosen model scores to 'A' rating, the cheaper it will be to run.
Mark Smithson, CEO of nationwide electrical appliance experts, Marks Electrical, told us: "It's important to remember that as of March last year, energy ratings have changed. A+, A++ and A+++ ratings have been removed and the new scale runs from A to G - making it easier for consumers to identify the most energy efficient products."
"All energy labels now have a QR-code on them as well, allowing people to find out more information about the appliance and its energy rating before purchasing it, something we strongly advise."
Does my fridge freezer really need more than the basic features?
Some models will connect to Alexa or an app to let you control temperatures, flash freeze, or be alerted to an open door. But there are models that look the part without the bells and whistles and will store meat and produce just as efficiently. Plastics and coatings may feel cheaper on budget models, so if in doubt, visit a showroom.
Best fridge-freezers at a glance: