Best sideboards UK 2023: stylish, practical sideboards for house storage
Storage; we all need more of it. Enter the sideboard, a piece of furniture which, chosen correctly, can provide a practical storage solution and add a stylish focal point to the room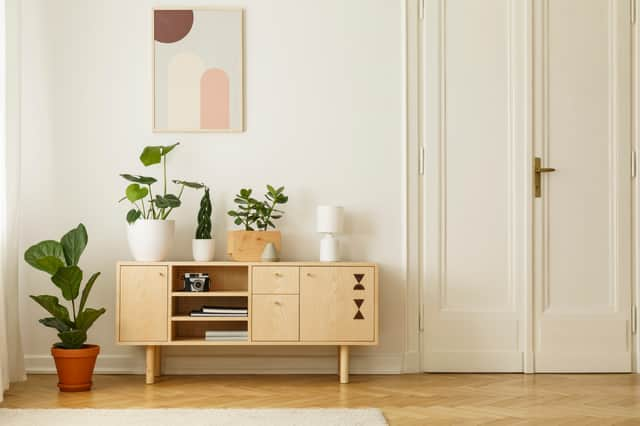 This article contains affiliate links. We may earn a small commission on items purchased through this article, but that does not affect our editorial judgement.
Don't sleep on the notion of a sideboard: they're a fabulous storage solution, allowing for you to capitalise on the narrow space available to you in a dining area, kitchen, or hallway.
How to choose the right sideboard for my house
In essence, a sideboard serves the same purpose as a console or dresser - a piece of furniture designed with internal storage and to place decorative items on top - but it is generally either more narrow or lower to the ground than a dresser.
When choosing a sideboard, consider
which room you're placing it in.

what it is for. Does it need shelves inside, for books, bedding, or photo albums? Or would you be better served with an interior that has no shelving, to allow for duvets and pillows? Are you storing kids' toys, or electronics - in which case, multiple internal compartments in different size are invaluable for organising

which design, material, size and colour to chose - it should be sympathetic to the rest of your décor
When you have those details shored up, you'll need to consider the dimensions. When measuring the space it goes in, remember you'll need 60cm clearance from other furniture in the room, to allow the doors and drawers to open and you to access the interior.
Regardless of the preferred term, when wondering how to choose a sideboard, we must look at dimensions first. Decide on its purpose and the room where you want to place it. Then consider the layout of the room and the rest of the furniture. If you need it for your dining area, pay attention to the size of your dining set. Remember to place it at least 60 cm away from other furniture, to allow the doors and drawers to open.
What is the best height for a sideboard?
This, again, depends on your intended use. Usually sideboards have short (or sometimes no) legs, which means they'll often be 70-90cm tall. Love entertaining? This is a handy height, as you'll be able to serve food or drinks off if for parties.
It's also a comfortable height for placing a TV on. However, if you're placing your sideboard in the dining room, match it's height to the dining table - it's aesthetically more balanced that way.
Going in the hallway? A sideboard that's generous in length is great (you can never have too much storage) - one with three compartments or drawers in a row will be incredibly practical (around 150cm is a good length for a standard hallway).
What style and colour sideboard should I choose?
Of course, you'll want to pick a sideboard that complements the décor of the room it's going in, matching the colour scheme and style.
That said, if you're placing tableware in your sideboard, you'll be wanting to pick one with doors (not drawers) for ease of access. Glass doors are great for helping your kitchen feel light and airy, as too much wood can feel oppressive.
By contrast, if you're placing the sideboard in a large room with plenty of light, bulky wooden sideboards can look downright chic.
What material should I choose for my storage furniture?
A mixture of wood, metal or glass is handy if you want a Scandi or minimalist vibe. Vintage style credenzas, particularly in the Art Deco fashion, are brilliant if you want a piece of furniture that makes a statement, particularly if you're planning on placing booze or glassware on it (Art Deco + bottles of spirits are a marriage made in Dorothy Parker's conception of heaven).
Can we put an earnest word in for recycled wood as a material? It's better for the environment, durable, suits most style homes, and timelessly chic.
If the chosen room is a little drab, a painted sideboard is great as a focal point (bright colours are ideal for a kids' room, while pastels and white are ideal for adding a romantic softness to a room).
To finish the look, consider placing some indoor plants or treasured family photos on the top, or stylish bottles of your favourite tipple.