Best sleeping bags UK 2023: multi-season, lightweight sleeping bags for camping trips
We trialled a wide range of sleeping bags to find the best: our top-rated sleeping bags are lightweight, portable and perfect for camping adventures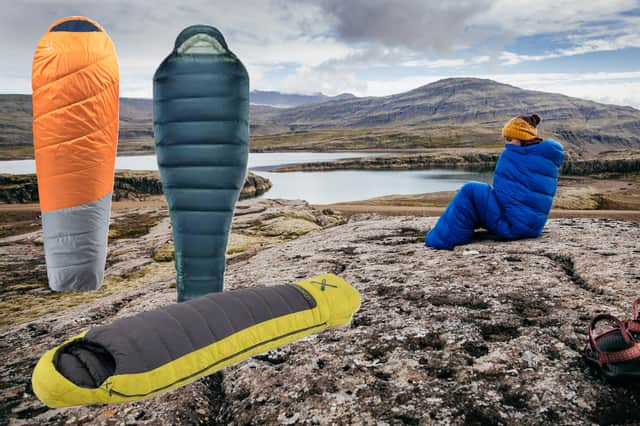 This article contains affiliate links. We may earn a small commission on items purchased through this article, but that does not affect our editorial judgement.
Are you planning on camping this year? The sleeping bag you pick is key for getting a warm and comfortable night's sleep in the great outdoors.
Sleeping bags come in all shapes and sizes (and at all price points!) but we've rounded up eight of the best designs to suit all sorts of campers.
What weight should my sleeping bag be?
Where are you planning to kip in your new sleeping bag? If you're only ever going to transport your sleeping bag in a car boot, you won't mind it's warm but on the bulkier, heavier side.
If you've got to backpack around the mountains with a sleeping bag, a tiny, lightweight option makes far more sense. Check both the weight and the pack size of the sleeping bag you have in mind – some of our featured bags weigh under 600g and will fit into the smallest of backpacks.
Best sleeping bags at a glance
What temperature rating should I choose for my sleeping bag?
A sleeping bag's main job, of course, is to keep you warm. Temperature ratings for sleeping bags are usually split into up to three categories – you'll see 'comfort', 'limit' and 'extreme' temperature ratings on most designs.
'Comfort' is the optimum temperature at which you'll feel warm – meaning that if the bag is used in temperatures below that rating, you'll probably get cold. In general, it's easiest to look for a bag with a comfort rating lower than you expect to encounter on your coldest camps.
What 'limit' number do I need for my holidays?
As a general rule, it's worth looking for a -10C to -20C limit for expedition bags, around a -5 to -10C limit for UK and European mountain adventures and 0C – 5C for general spring and summer camping with the family.
Animal down or synthentic down? Which is better for a sleeping bag?
Animal down is the best sleeping bag filling for warmth-to-weight ratio, and sleeping bags made from down also tend to pack up small.
While synthetically-insulated sleeping bags are usually heavier and bulkier, they are generally better at keeping you warmer when it's wet or humid, as well as drying out quicker.
They're also easier to clean, and generally cheaper.
Increasingly, brands are fitting bags to different bodies. You'll find 'tall' and 'short' sizes on sale, and many companies now offer female-specific versions of their sleeping bags, as petite women may find a shorter and more curved sleeping bag fits them better.
Get kitted out for your hiking and backpacking adventures.