Kids' sleeping bags UK 2022: from Happy Nappers to Mountain Warehouse, the best children's sleeping bags
Camping with a child can be the greatest fun - but a great sleeping bag is important, or else you'll end up with a grumpy companion in the morning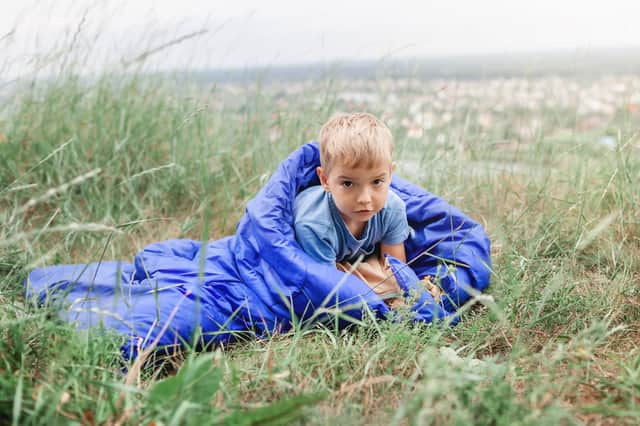 This article contains affiliate links. We may earn a small commission on items purchased through this article, but that does not affect our editorial judgement.
The right sleeping bag for your trip should be able to envelop your child a cocoon of warmth and comfort so that you can get a good night's sleep and be ready for the next day's activities.
What kind of sleeping bag does my child need?
When making your choice, you need to think about where you are going, the kind of temperatures you will experience and whether you will need to be carrying it for long periods of time.
Baby sleeping bags and children's bags are the same, ultimately, as adult bags: you can purchase down or synthetic. Down are warmer, synthetic are easier to clean (particularly useful for children who are still having wet nights).
Some models have a detachable bottom section, which allow for additional space to be added as your child grows, then removed again if the bag is handed on to smaller family members.
What does '1-season' mean, and the technical specifications on children's sleeping bags?
"You will find that almost all sleeping bags have technical ratings. These tend to be temperature figures that determine how the bag performs under certain conditions. There are season ratings that run from 1-4, and temperature ratings that define the upper and lower limits of the bag.
A one-season sleeping bag, for example, is only really suitable for the warmest of summer nights. A four-season sleeping bag, on the other end of the spectrum, will protect you when camping in the colder, winter months.
Forgive us for stating the obvious here, but in summer, the nights can still be quite cold, particularly in the UK - bear this in mind.
What do temperature limits on a sleeping bag mean?
Temperature limits are rated as the upper limit (which is the highest comfortable temperature in the bag), a comfort limit (an average of the most comfortable temperature in the bag) and a lower limit (which is probably the lowest temperature you'd want to sleep in and still get an OK night's sleep).
There is also an 'extreme' temperature limit, but this tends to be a safety score that is the lowest temperature the bag can withstand to prevent you from getting hypothermia."