Andy Carroll is no longer a Premier League 'Plan A' but Newcastle United could not ask for a better 'Plan B'
The days of Andy Carroll being a Premier League Plan A are long gone – but that does not mean he can't be Newcastle United's perfect Plan B, or even Plan C.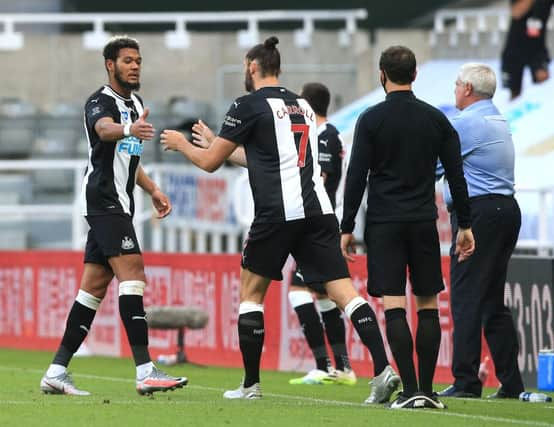 Today brought the news that Carroll, a few games shy of triggering another year on Tyneside, was offered and signed a new deal despite not playing the required number of games.
Looking at the figures some will argue he doesn't deserve a new deal – but the goals tally (he's not scored since returning last summer) only tells a very small part of Carroll's story.
When he left for Liverpool on the painful, damaging deadline day all those years back he was a barnstorming, left peg swishing, big ball winning, energetic striker with a whole career in front of him. Some would argue when he left, he was the most feared striker in the Premier League, hence why Kenny Dalglish, no poor forward himself, saw fit to pay a then British record £35million to sign him.
Carroll could terrorise with his aerial prowess – fans older than myself claim to have not seen a player so dominant in the air since the European Intercity Fairs Cup days of Wyn Davies – but with the ball at his feet, anywhere within 40 yards of goal, he was a threat with a rocket of a left boot. Liverpool knew this only too well.
Sadly, Carroll is a shadow of the player who was whisked away on Mike Ashley's helicopter. But that does not mean he has not added value to this United squad.
Inexperienced Joelinton has played like a man with the weight of the world on his shoulders, but has relied heavily on Carroll at the club's Benton training base.
And as a player, he has proven the perfect role model for the Brazilian, who has not only had to contend with learning a new No9 role, but also having to do it in what is often described as the best, most competitive league in the world.
Add one more striker this summer – with Dwight Gayle and Yoshinori Muto binned – and United could have a decent front pack.
An improving Joelinton – who looks to be getting to grips with the physical elements of the division and what is needed as a focal point to Steve Bruce's XI – as well as a rampaging, Captain Chaos in Carroll, complemented by a top class, proven goalscorer or a slightly less class, less proven goalscorer if the Saudi millions don't flood the Tyne in the weeks to come.
For me, signing Carroll and Javier Manquillo, down to longer term deals was a no-brainer.
Carroll knows what the club is, what it can be. He's cheap (relatively) and doesn't want to be anywhere else. I suppose you could say the same of me – and this only gets you so far – but with that Carroll has a wealth of experience to pass on to others and he's a general in the dressing room. An asset to Bruce, or any other manager who may walk through the SJP revolving door in the next 12 months.
Manquillo, too, has edged out DeAndre Yedlin – who will be sold this summer with just a year left – to become the club's No1 full-back. Solid, quick and dependable, he's come a long way from his shaky first steps in black and white to now be one of the first names on Bruce's teamsheet – and Rafa Benitez's before him.