Callum Wilson provides Newcastle United fitness update ahead of Nottingham Forest
Callum Wilson is a doubt for Newcastle United's Friday night trip to Nottingham Forest in the Premier League (8pm kick-off).
Wilson dropped to the bench in Newcastle's previous Premier League match against Wolverhampton Wanderers as Alexander Isak came into the side and opened the scoring before Miguel Almiron confirmed the 2-1 win after Hwang Hee-Chan's equaliser. It was The Magpies' first league win in six matches as they moved back up to fifth in the table heading into Friday's match at the City Ground.
But Wilson admitted he probably shouldn't have even made the bench against Wolves having missed the majority of training during the week due to illness.
"It was important that we got back to winning ways, I feel that we'd been on a run, we'd had the cup final so we had a few weeks of disappointment," Wilson said on the Footballer's Football Podcast.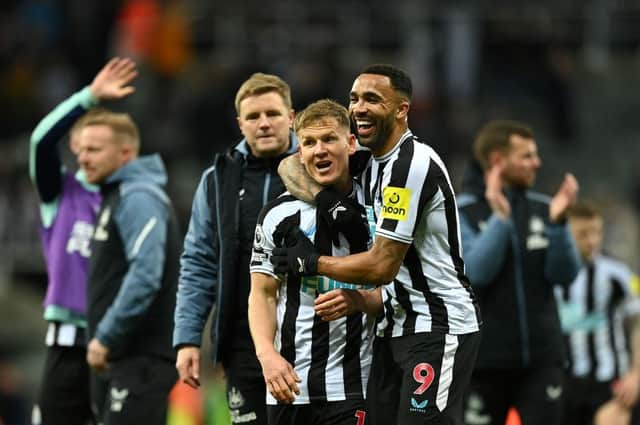 "A lot of draws unfortunately but if you can't win them don't lose them. It was a good win and I think we made five changes, there was injuries, there were people like myself that shouldn't have really been on the bench [at all] but that's what I do for the cause, I put myself out there."
Wilson has also missed training ahead of the Forest game and is unlikely to start with Isak set to lead the line once again.
"For me, I've not trained in over a week now," he admitted. "So we need someone and that's why we've brought [Isak] in, to come into the team and not let it hamper when anyone comes out of the team, that's what we're trying to build here, we're trying to get players who are just as good as each other so there's competition first and foremost but the team is still performing.
"It was a great performance from him and as a striker, you need him to score but as someone who plays in his position you're like, it's going to take me an extra week to get back in!
"You've got to believe in your ability and competition is healthy. He's a good player and let it keep happening, I'll keep putting the pressure on, he'll keep putting the pressure on, that's what's going to bring the best out of each other."
Heading into Friday night's match, Wilson has scored once in his last 15 appearances for Newcastle. But he's focused on regaining the starting striker spot from Isak in the near future.
"I'm not deluded and think I'm going to keep playing," said the 31-year-old. "If you're not performing on the pitch, no matter who you are in our team and with the way the club is wanting to go, someone else with come in and replace you.
"Ultimately it's taken an illness [for me] for that to happen and he's come in and took his opportunity. There'll be people who will be saying it should have happened weeks ago but football is not like that.
" He's taken his opportunity when it has come around and now it's up to me to get back into the team which is something I'm more than happy and capable of doing."