Newcastle United star escapes four-match ban after independent review into incident VAR missed
Newcastle United goalkeeper Nick Pope was fortunate to escape a four-match Premier League ban, an independent panel has found.
Pope avoided punishment during Newcastle's 2-1 win over Wolverhampton Wanderers at St James' Park earlier this month after bringing down striker Raul Jimenez inside the penalty area. The England international's heavy touch was intercepted by Jimenez who proceeded to go down under contact from the goalkeeper.
Referee Andy Madley waved away Wolves' appeals for a penalty and the VAR Tony Harrington refrained from intervening. With the score goalless at the time, the decision to award a penalty would have likely impacted the final score and seen Pope given his marching orders for the second home match running.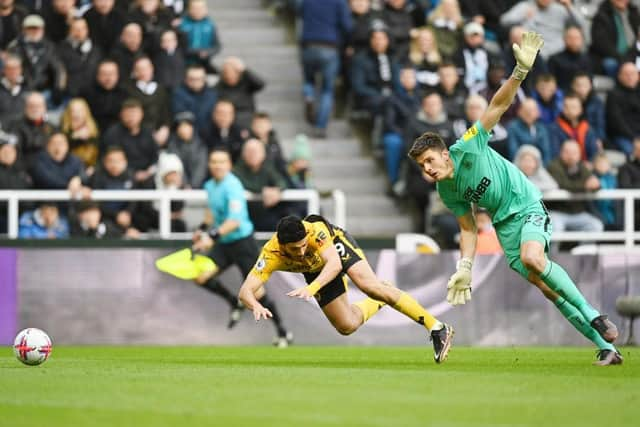 Sportsmail has reported that the incident has been reviewed by a five-person independent panel which determined that a penalty should have been awarded and, in turn, Pope dismissed. Interestingly, the application of VAR was deemed to be appropriate in this instance as, although the referee was seen to have made an 'incorrect' decision in the eyes of the panel, it was not 'clear and obvious' enough for an overruling.
On the incident, Wolves boss Julen Lopetegui: "For me it was a very, very clear penalty for us. We are very unlucky with the referee and we were also very unlucky with the referee in other games too and this is a pity for us."
A sending off for Pope would have been his second of the season after his straight red card against Liverpool last month and would have led to a four-match ban. Pope missed the Carabao Cup final for The Magpies due to suspension.