The huge Premier League TV change which set to impact Newcastle United fans next season
Newcastle United fans will only be able to watch a limited amount of the Magpies' Premier League games next season, as the top flight reverts back to its old coverage schedule.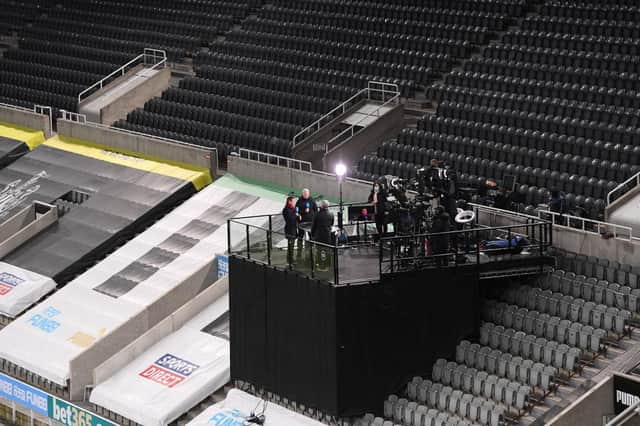 Former Newcastle player Robert Lee on the BT TV platform in the East Stand during the Premier League match between Newcastle United and Aston Villa at St. James Park on March 12, 2021 in Newcastle upon Tyne, England.
On the day the Premier League fixtures for the 2021/22 campaign were released, an announcement which may have floated under the radar for many fans was put out by the top flight.
It stated that the arrangement to show all 380 games for next season was no longer in operation – with a little more than half, 280, shown live to those without tickets.
A statement on the Premier League website reads: "This season 200 matches will be shown live in the UK by partners Sky Sports, BT Sport and Amazon Prime Video. Sky Sports will broadcast 128 matches, BT Sport 52 and Amazon Prime Video 20."
Last season EVERY Newcastle United game was shown LIVE via the Premier League's regular broadcast partners, with the BBC also getting some top flight games, as a result of fans being locked out of grounds due to Coronavirus restrictions.
The Premier League will announce any TV changes to the released fixture list by Monday, June 21.
They started last season away at the Hammers and kicked off what turned out to be a troublesome campaign with a 2-0 victory in London, thanks to goals from debutants Callum Wilson and Jeff Hendrick.