Wolves boss Julen Lopetegui stunned by Newcastle United 'mistake'
Wolverhampton Wanderers manager Julen Lopetegui gave an unsurprising assessment of his side's 2-1 defeat at Newcastle United on Sunday.
Newcastle won the match after Alexander Isak gave the home side the lead at St James' Park in the first half and Miguel Almiron scored his 11th goal of the season nine minutes after Hwang Hee-Chan equalised for Wolves. But the match was not without controversy as the away side were denied a first half penalty after Raul Jimanez clashed with United goalkeeper Nick Pope inside the penalty area.
Referee Andy Madley waved away the strong Wolves appeals and VAR Tony Harrington refrained from intervening when the score was at 0-0.
"It is always difficult to accept a defeat because you want to win all the matches," Lopetegui said after the match.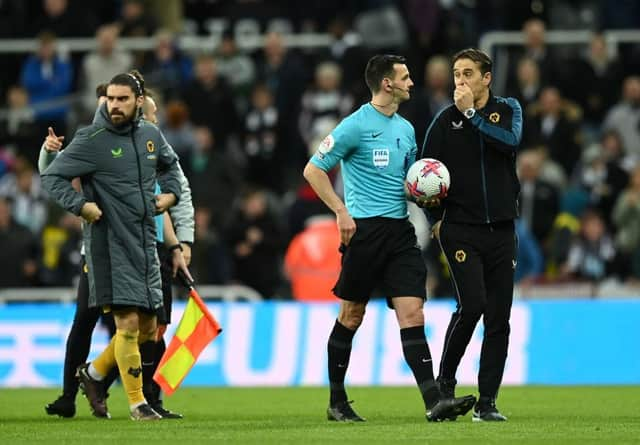 "It is difficult but we have to do it and we have to improve and to continue working for the next match. I don't know if we deserved more.
"If it was just the second-half, then yes. But in the first-half, they were better than us. We hit the post and after a very clear penalty, which was a pity.
"In the first-half, they overcame us but in the second-half we improved a lot and we changed many things, we overcame them, we deserved to score and in the end we should have drawn the match."
The Wolves boss hit out at the decision not to award his side a penalty once again, recalling a previous incident against Liverpool earlier in the season.
"For me it was a very, very clear penalty for us," Lopetegui said regarding Pope's contact with Jimanez. "We are very unlucky with the referee and we were also very unlucky with the referee in other games too and this is a pity for us.
"It's true that we have suffered big mistakes – a lot of matches ago at Liverpool and again today.For me, it was a penalty.
"Maybe the VAR can help the referee more in this case. We were very unlucky with the decision and we haven't had any penalties since I arrived here but we have to continue working."