6 of the best games released in May 2020 on PS4, Xbox One, Nintendo Switch and PC
May 2020 looks set to be a cracking month for new game releases, with everything from blockbuster remakes to narrative-driven horror titles to keep everyone occupied
Here are the six best looking titles scheduled to be released this month.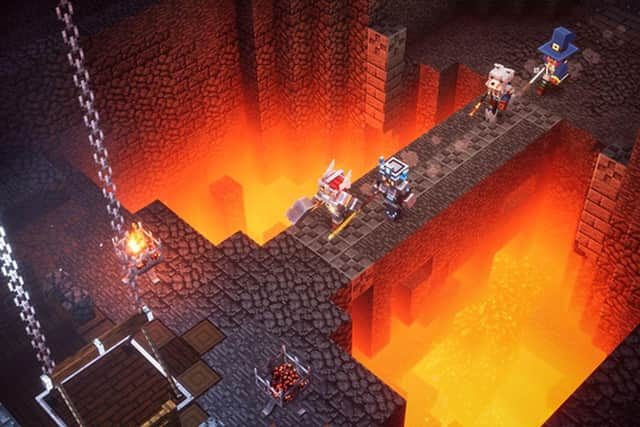 This story-driven psychological horror game tells the story of a desperate search for a missing daughter deep in the woods where you swore you'd never return.
You'll played as Daniel, the father of Stela, forced by your daughter's disappearance to return to a vengeful forest in a game inspired by classics like Silent Hill, Outlast 2 and Resident Evil 7.
When can I play it? 5 May
Lonely Mountains: Downhill
While Lonely Mountains has been out on the main home consoles for a while now, it's sure to find a home on Switch, and looks to be a perfect fit for Nintendo's portable console.
You simply play as a mountain biker, looking for the shortest route down a variety of mountainside courses. You can take things as precariously as you like, careening around corners for the best time, or take a more leisurely pace, soaking in the virtual nature as you go.
There are challenges to complete which unlock new trails and mountains, and leaderboards for those who want to master the mountainous terrain and reach the base with the fastest time possible.
When can I play it? 7 May
In this single-player third-person adventure game inspired by the landscapes of Iceland, you'll play as an ordinary red fox whose story becomes entwined with the guardian of the Northern Lights, a female spirit fox.
You'll need to solve various puzzles and speculate the meaning of a lost ancient civilization, and wth the help of your new companion, shed light on the ruins of the past and overcome obstacles.
When can I play it? 7 May
The Wonderful 101: Remastered
This Japanese curio originally released to the Wii U back in 2013, but is getting a second chance of capturing a bigger audience with this remastered version.
In The Wonderful 101, you control a group of secret heroes plucked from their normal lives to save the world in a time of emergency.
Each of the characters in The Wonderful 101 are defined by Unite Morph powers, which allow them to transform a group of heroes into objects, such as a giant fist, a powerful blade or even a firearm.
When can I play it? 22 May
Ever wanted to live out life as all-consuming shark, devouring hapless surfers at will? Now you can with Maneater.
Starting as a baby bull shark, you'll grow in power as you explore a wide range of underwater environments, from swamps and rivers to beachside resorts and the deep blue sea.
Your only tools are your wits, your jaws, and the uncanny ability to evolve as you feed.
When can I play it? 22 May
PC, Nintendo Switch, PS4, Xbox One
Unlike the original game, Minecraft Dungeons has no crafting or building. You won't even have the ability to destroy blocks!
Instead, it focuses on being a dungeon crawler game; a game in which the heroes navigate a labyrinthine environment, battling monsters, avoiding traps, solving puzzles, and looting any treasure they may find.
In Minecraft Dungeons, these dungeons are randomly-generated and filled with randomly-generated monsters, so no two play sessions will be the same.
When can I play it? 26 May