Lindisfarne Festival confirms Dizzee Rascal as one its headliners for 2021 event
Organisers of Lindisfarne Festival have revealed Dizzee Rascal as one of the event's headlining acts as the Northumberland music extravaganza prepares for a return in September.
Friday, 9th April 2021, 6:00 pm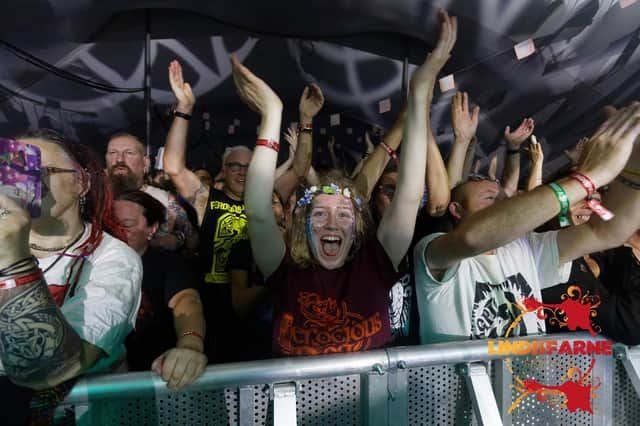 The festival will take place between September 2 and September 5.
BRIT Award and Mercury Music Prize winner, Dizzee Rascal will take his place at the top of the Friday line-up for the much-loved camping festival, which will be back once again at Beal Farm, Northumberland from September 2-5, 2021.
Lindisfarne Festival founder, Conleth Maenpaa, said: "We couldn't be happier to be adding Dizzee Rascal as our Friday night headliner. He's someone we've been chasing for a while, so it feels amazing to finally see his name riding high on the festival poster."
Dizzee joins Grammy Award-winning British electronic music duo – and Lindisfarne Festival headliners - Groove Armada at the top of the bill for this year's three-day music and arts extravaganza.
Dizzee Rascal is headlining Friday night at Lindisfarne Festival 2021.
"To have Dizzee Rascal and Groove Armada performing does seem brilliantly ridiculous," added Conleth.
The sixth Lindisfarne Festival will see 5,000 music fans descend upon one of the UK's most stunning festival settings, overlooking the majestic Holy Island on the Northumberland coast, as more than 200 musicians and performing artists take to the Festival's 10 distinct stages.
Alongside the music, there will be a diverse programme of creative workshops, stand-up comedy, spoken word, yoga and holistic therapies on offer as well as luxury glamping packages for those not so keen on the camping bit.
Conleth says he and the rest of the team are feeling excited and optimistic as everything starts to take shape.
More than 5,000 music fans are expected to attend.
He said: "Like everyone else, the whole team here are absolutely buzzing about the prospect of being able to get together with people again and soak up that special festival atmosphere, which you can't get anywhere else. We can't wait."
Along with the rest of the UK festival industry, Lindisfarne Festival had to shelve plans for the 2020 event when the Covid-19 pandemic took hold.
The vast majority of acts were rebooked for the 2021 dates including Alabama 3, From The Jam and Craig Charles Funk & Soul Club.
Other acts include Fabio and Grooverider, Showhawk Duo, Dutty Moonshine Big Band, Zion Train, Shades of Rhythm, We Are Champion, Lancashire Hotpots, Letz Zep, Rachel Croft and Backyard Rhythm Orchestra.
The dramatic events of the pandemic are having a major impact on many of our local valued advertisers and consequently the advertising that we receive. We are now more reliant than ever on your support through buying our newspaper. If you can, please pick up a copy of the Northumberland Gazette when you are at the shops. Thank you.