Young South Tyneside dancers off to Irish dancing world championships in Canada
Five young dancers have done South Tyneside proud by reaching the finals of the 2023 World Irish Dancing Championships in Canada.
All five are students at the South Shields-based Stokes Collins School of Irish Dancing, who teach all round the North East. They are Caitlin Chapman aged 20, Abbie Orr 16, Thomas Hurrell 13, Ava Horsfall 11 and Nancy Corr 11.
The fab five had to compete against other dancers in their respective age groups at a competition in November last year.
They danced in the North East qualifying and the top five finishers in each age group went through to represent the region at the World Championships.
The event is organised by An Coimisiun le Rinci Gaelacha (The Irish Dancing Commission) and it takes place in Montreal over eight days from April 2.
The youngest of the five is Nancy, who is a Year six pupil at St Matthew's Primary School in Jarrow. She has been Irish dancing since she was four.
Nancy lives with parents Emma and Chris and younger sister Harriet, who have saved up to make it a family holiday in Quebec.
An excited Nancy said: "I feel really proud of myself and my teammates that we get to dance in the world championships. I am so lucky and will keep working hard with the help of my brilliant teachers Susan and Maria."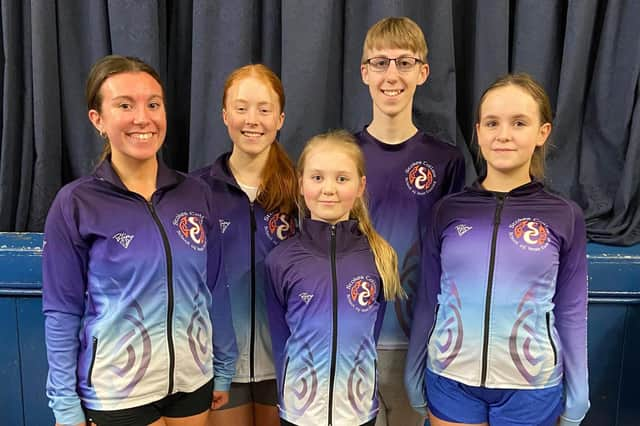 Harriet is also and Irish dancer. Physical exercise is an important way to deal with her condition and she has been enjoying her dancing since the age of three. The jigging has done her no harm at all.
Mam Emma Corr said: "It's unbelievable. Nancy has put so much hard work into it and it's paid off. I think I'll be an emotional wreck watching her dancing on a world stage.
"We'll all remember it forever."
The five dancers have a JustGiving page to raise £1,000 to help with the cost of their airfares, accommodation, entry fees, costumes and dance shoes if anyone wants to help out.