New Newcastle United injury blow revealed by Eddie Howe
Eddie Howe's revealed a new Newcastle United injury blow.
Howe's side take on Wolverhampton Wanderers at St James' Park on Sunday on the back of three successive 2-0 defeats.
Asked if the defender would be in his squad, Howe said: "He's trained well this week, so we're pleased to see him back."
Howe was also asked if there were any fresh injury concerns ahead of the Premier League fixture. He said: "We've got a couple of knocks from the City game. We hope nothing too serious."
"I think he's fine," said Howe. "I don't think he's missed any training from that ankle. He was sore initially against Manchester United, but he was back training, no problem. I think the initial one (ankle injury), can't remember who it was against, kept him out of some training. Touch wood, I don't see a problem."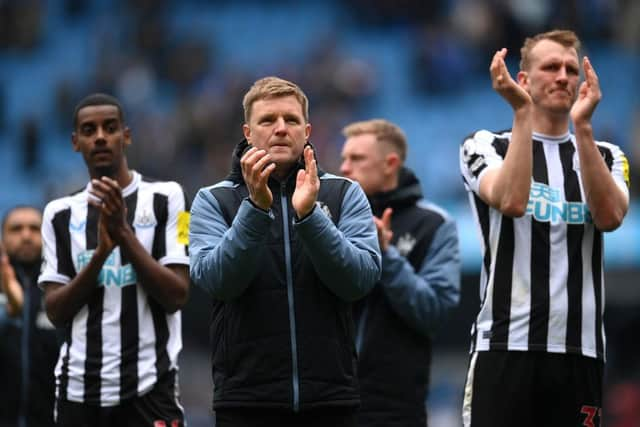 Small problem
However, Howe did confirm that one player would miss the Wolves game through injury.
Harrison Ashby, signed from West Ham United in January, has a hamstring problem. The 21-year-old is yet to make his debut for the club, and Howe said: "Harrison's picked up very small hamstring problem. So he hasn't trained with the group for a few weeks."
Meanwhile, Howe is happy with what he's seen on the training ground from his squad this week.
"It's been a good week in terms of delivery and intensity," said Howe.
"We've been unlucky. I don't believe in luck, because you create it yourself, but we've had an unlucky period when things have gone against us.
"Lots of things are tested behind the scenes on these runs. What is the culture of your group like? What is the culture around the training ground like? It's a good test of that. So far, the players have come up with the right answers."