Newcastle United forward reveals 'very good' talk with Celtic boss after tough spell
Newcastle United youngster Garang Kuol received a pep talk from Celtic boss Ange Postecoglou during his loan spell at Heart of Midlothian.
Kuol, 18, joined Newcastle from Central Coast Mariners in January before being quickly loaned out to Hearts until the end of the 2022-23 season to gain senior football experience. The teenager has started just once since arriving in Scotland, being limited mainly to substitute appearances.
Two of Kuol's seven appearances from the bench have been against Celtic. Hearts faced the Glasgow club home and away in the Scottish FA Cup and Premiership respectively this month.
Kuol played the final 25-minutes of Hearts' 3-1 defeat at Celtic Park on March 8, during which he received a pep talk from Bhoys boss and former Australia player and manager Ange Postecoglou.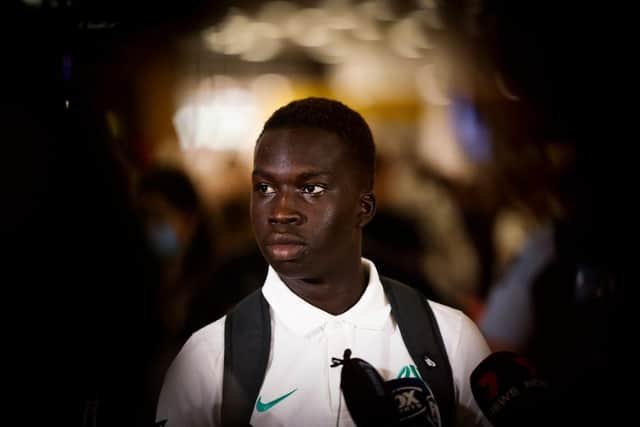 Describing his interaction with his fellow countryman, Kuol told The Herald: "It was very brief. He just said, 'I hope you're settling in well, and keep working hard. I'm happy to see you're working hard, and hopefully, you can keep doing well.'
"It's good for him to show that he cares about other Aussie players in the league, and that he's there for them. It was a very good moment."
It's not the first time Kuol has interacted with the opposition either. During his time away with Australia at the World Cup in Qatar, France superstar Kylian Mbappe approached the youngster for a quick word and a sportsmanlike hand slap during a group stage encounter.
"He said, 'sup bro, you good?" Kuol said when recalling his encounter with the Paris Saint-Germain forward. The teenager also rubbed shoulders with Lionel Messi in Qatar as Australia were beaten by the eventual winners Argentina in the last-16 clash.
Kuol had an opportunity to force extra-time in the final moments of the match but was denied by Argentina goalkeeper Emi Martinez.
As he continues to adapt to the physicality of Scottish football, Kuol is hoping to get on the scoresheet once he returns to Hearts after the international break.
"Everyone you [play against] is here to fight. There's big boys everywhere. But I feel like game by game, I keep adapting to the level of physicality.
"It's definitely getting better, my physicality. I'm tracking my food, my weight every day – I'm just trying to stay focused on doing all that stuff, because it does make the difference.
"It's been good to get that experience in. Training with the top players every day, with men - I think that's the key to developing. The most important thing is what happens in training, and what happens when I get my opportunity on the pitch.
"That's where all my attention's going. I'm just trying to get as much minutes as possible, and that's up to me, and what I do. Hopefully, I can get some stats up on the board."