Eddie Howe drops Newcastle United squad hint ahead of summer
Eddie Howe says he knows what's needed to "push" Newcastle United on after the club's Carabao Cup defeat.
The defeat also underlined the need for further squad strengthening in the summer.
A number of players whose contracts expire in the summer were involved at Wembley, including starting goalkeeper Loris Karius and substitute Matt Ritchie, and Howe was asked if he expected his players to come back stronger from the disappointment.
"Certainly some of the players will," said United's head coach. "I'm sure the younger players will take all those experiences, and it will do them good.
"Not everyone's in the same situation. and certainly a footballer's career is a very volatile thing, so there'll be some players that might not get back to Wembley. Who knows what lays ahead.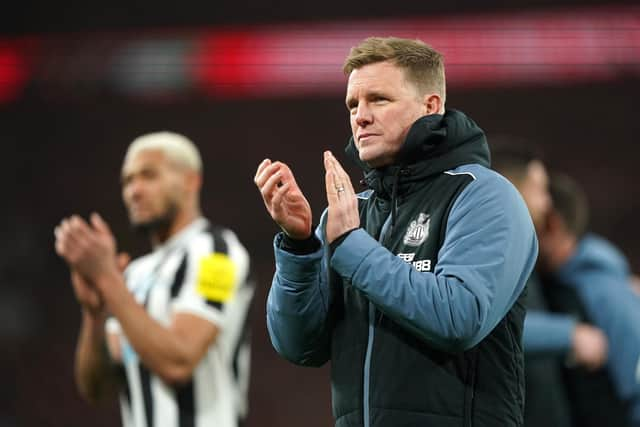 "There are no guarantees in football, so all you can do is try and improve from it."
Ritchie, signed from Bournemouth in the summer of 2016, is expected to leave the club at the end of the season, while long-serving Paul Dummett and fourth-choice goalkeeper Mark Gillespie could also depart in search of first-team football when their deals end amid further squad renewal.
Howe says he and his staff, preparing for Saturday's game against Premier League champions Manchester City at the Etihad Stadium, already know what's needed to "push the team on".
Asked about squad strengthening, Howe said: "Every game gives that clue of where you need to strengthen.
"We're always analysing where we can improve, and how we need to get better. I don't think there will be any overreaction to this game in particular but, certainly, we know how and what we need to do to push the team on."
The club has spent around £250million on players since a takeover in October 2021.